What to do when you arrive in Geneva?
Once you have landed you will be directed through passport control and into the baggage claim area. Find your flight on the board and recover your luggage from the appropriate carousel. If you are carrying ski or snowboard bags there is a separate conveyor belt at the far end of the baggage claim area. There are two doors that will take you into the arrivals hall and we are located next to Tekoe Tea Shop and opposite the UBS ATMs. We have a designated desk with a sign, where your driver will be waiting for you. Simply say hello and you will be looked after.
If for some reason you are unable to see your driver then please call our operations centre on +33450373685.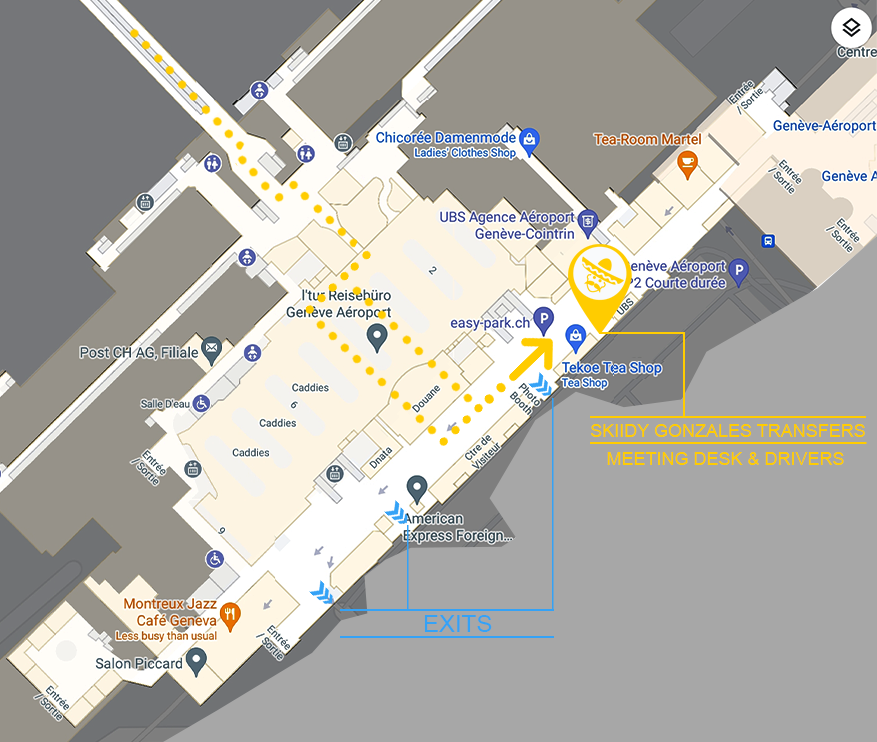 Weekend Travel
Weekends during the winter are very busy on the roads of the French Alps. Saturday is the traditional ski changeover day and continues to be very busy indeed in Geneva. In recent years many accommodation providers have been using Sundays as the start of the week and although numbers are increasing it is a much  easier day  to  travel.  For  these  reasons  we  have  a  manned  desk  at  the  airport  on Saturdays and Sundays. To find our desk simply turn left when you enter the arrivals hall and you will see a large green cafe called 'Tekoe' on the right. Our logoed desk is just after this on the right hand side. Say hello and we will look after you!
Minibus Parking
The Airport authorities imposed restrictions and procedures a few years ago to make us use the P33 car park next to the train station. This involves a short walk through the airport. Trolleys are available in baggage claim to make this easier. To use a trolley you will need a 2 CHF coin or a 2 EURO coin. If you have one at home, put it in your pocket.
Departing from Geneva
On your departing transfer we will collect you from your accommodation in resort (pick up times sent by SMS  the day before)  and take  you to Geneva Airport. The departure  level has been redeveloped and there is now a 'quick drop' transport  vehicle lane. This is where  you will be dropped. Trolleys are available and it is very close to the entrances to the check in areas.